"Finally to the city, horse riding and friends by myself!"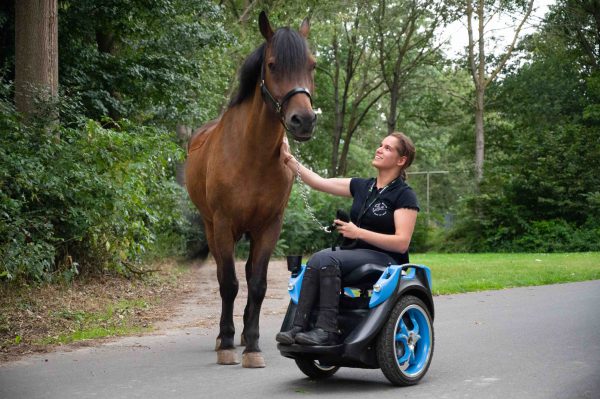 "Gratitude and freedom"
As a small child, I always dreamed of moving on my own without needing anyone. Long story short, I have Cerebral Parese and it is impossible for me to walk without holding on to something. In addition, I have 70% of the function in my right arm because of spasticity. So when I met the Omeo 2 years ago through my brother who pointed it out to me, I couldn't take my luck!
"Finally going to town by myself, to the equestrian center, my friends, you name it."
1 year ago, on June 15, 2019, I was finally allowed to pick him up, my own blue Omeo. I was nervous but also very excited and that caused hilarious memories, because you can ride the Omeo with both your body and the joystick. When I first moved my body I found it scary but also mind-blowing and I was driven to master this wheelchair. Just like his speed, it goes up to 20 km/h and I am someone who loves speed. So the Omeo was a perfect match, as they say sometimes.
As a 5 year old girl I started at the riding school in the Boekend. Everyone stood there with full courage. It would be good for me and would also help therapeutically. This turned out to be true and besides that I thought it was AMAZING. On the horse I was free, without a wheelchair and I could clear my head. The only thing that was still missing when I got older and wanted to go to the riding school myself, was the freedom to do so and to be able to do so.
I never dared to dream that now, 13 years later, I could say to my parents: "Mom and Dad, I'll be away for a while". Going shopping, to friends in town, to the equestrian center or to school. And I've never been so grateful for the opportunity to do this and I CAN do it.Wheelchair binding is generally no fun, but the Omeo has created opportunities for me that are invaluable in my life. Life is and always will be a party, whether you are wheelchair bound or not. And I intend to keep enjoying it!
Would you like to ride a Seated Segway like Gina? Please contact us or fill in the form. We will contact you as soon as possible. See you soon!